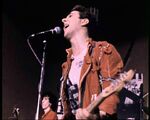 Punk In London is a documentary film by German film maker Wolfgang Büld. It features performances from numerous punk bands including The Clash performing in Munich during October 1977. Whilst the original print contained only four Clash songs (Complete Control, Hate And War, Police & Thieves, and Garageland), the newest release of the film on DVD now has footage of seven songs, although many are only short clips. A short interview intercuts between songs.
Track Listing
Edit
Ad blocker interference detected!
Wikia is a free-to-use site that makes money from advertising. We have a modified experience for viewers using ad blockers

Wikia is not accessible if you've made further modifications. Remove the custom ad blocker rule(s) and the page will load as expected.